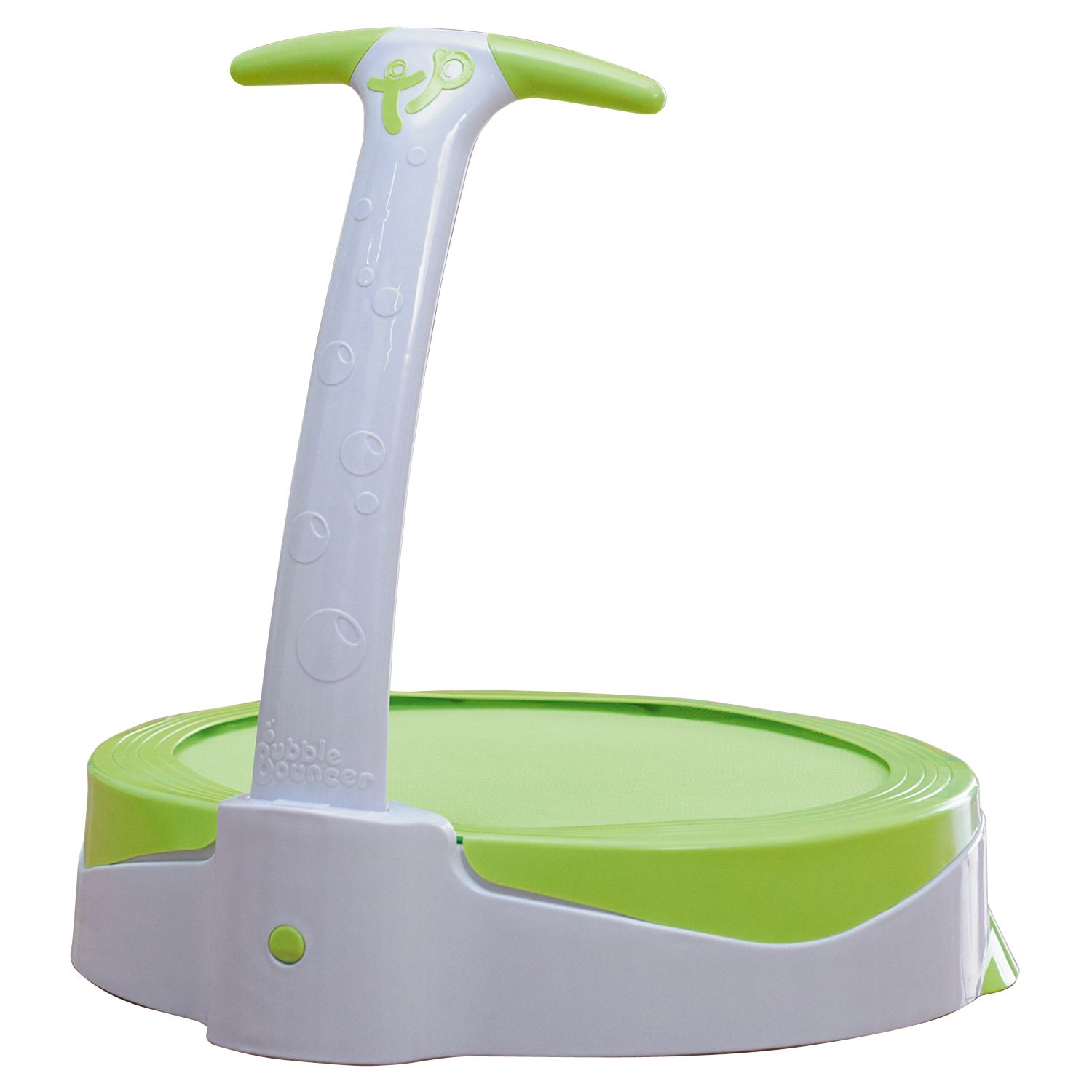 Grace loves to bounce. She bounces on the sofas, the beds, the footstool, the dog's beds, Daddy's lap, Mummy's tummy  . . . need I go on? So hearing that we'd be getting the TP Bubble Bouncer for her to try out was super duper news. The TP Bubble Bouncer is a mini trampoline suitable for one-year-olds up to a maximum user weight of 20kg. Here what we liked about it:
Grace loves it.
Fabulous design! Looks really funky and is completely unisex. The handle gave Gibby tons of confidence too.
Ridiculously easy assembly – just click the handle on and you're good to go.
Foldaway feature- perfect for tidy storage and easily fits under a cot/bed or behind a sofa. Also makes it pretty transportable.
Great for your child's strength, balance, fitness and co-ordination.
Grace loved it.
Has protective foam pads on the base. (We have solid oak floors so this was a big plus: no scratches.)
Wipes clean.
Grace loves it.
My only regret is that we didn't cotton on to this toy sooner as she's two now, and would have got so much more use out of it if we'd had it from about a year earlier.
 If I really had to quibble, I thought it would be bouncier too – but it hasn't stopped Grace going hell for leather on it (did I mention: she LOVES it?) The thing is, TP have been making activity toys for more than 50 years, so they know what they're doing. Maybe if it was super-springy we'd all be removing children from the light fittings. If G's enthusiasm is anything to go by, then I guess any bouncier might cause injuries!
So it's a big thumbs up from the Water Birth Please household. You can get the Bubble Bouncer from the Early Learning Centre or click the link here. It RRP is £39.95 – a good investment if you get it early enough and definitely a good indoor toy to wear the wee ones out.